Welcome to our website!
If you are visiting our site for the first time, here are some tips for finding the information you need. The banner across the top of this page helps you learn more about our specific programs. The listing to the left allows you to create an account and navigate directly to specific classes. (If you already have an account use the button up top to LOG IN.) Just below this paragraph is an up-to-the-minute listing of all upcoming classes in chronological order. At the very bottom of this home page you'll find administrative information, including About Us, Contact Us, Driving Directions, Fee Schedule and lots more. Welcome!
Upcoming Classes: Quick View
Holiday Crash Courses
Short on time over the holidays? Consider a 3-week Crash Course. Click here for more information!
Upcoming Events, Seminars & Workshops
Alex Robinson Competition Obedience Seminar
Alex Robinson returns for six days: May 2 – 7, 2020. His approach to competition obedience training is admired worldwide and his seminar in 2019 was so well received we're having him back for three separate events plus a day of private lessons. Click here for more info.
Ten-Minute Ticker and Rent-A-Ring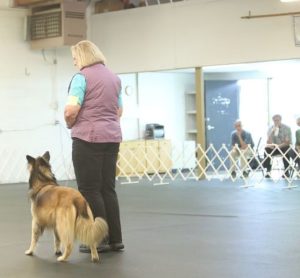 Our next Ten Minute Ticker and Rent A Ring will be held on Sunday, December 29, 2019. Get ready for the January shows. Click here for more information.
In the event of bad weather, unsafe driving conditions, etc., any class cancellations will be posted on our Facebook page, which can be viewed using the link above (even if you are not on Facebook).